The June 2017 presidential election was to be the 6th presidential election in POWER history and the 3rd in POWER 2 history. Incumbent Republican President Nicholas Kohl faced four challengers but maintained a comfortable lead. The election was never held due to a reset of POWER by Rumsod early on the morning of July 3, 2017.
Candidates
Edit
General Election
Edit
As of June 15th, the following candidates had begun to campaign on the tickets of their respective parties for the presidency:
Gary Johnson, also of the Libertarian Party, launched a campaign later in June.
Campaigning
Edit
Kohl began the campaign with a huge lead and his polling numbers continue to hold strong; however, Roosevelt managed to make some gains in traditionally liberal states such as California and Connecticut. Ultimately, the Republican incumbency was never seriously challenged, and by the July 3rd reset, the GOP was projected to capture all electoral votes.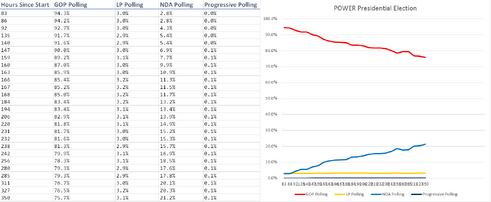 A graph of polling created by Tom Jason analyzing poll data over time. The hours column is how many hours have passed since the election began.